Introducing: BuildBee Desktop


This information is current for BuildBee Desktop Version 66

What is BuildBee: Desktop
BuildBee Desktop is an application in active development which allows you to:

Connect your 3D printer directly to the BuildBee cloud without a CloudDock.

Use BuildBee cloud printing as a native stand-alone application on Windows and MAC.

BuildBee Desktop uses all the existing cloud infrastructure of BuildBee to manage your files and prints so an internet connection is essential.



Where can I get BuildBee: Desktop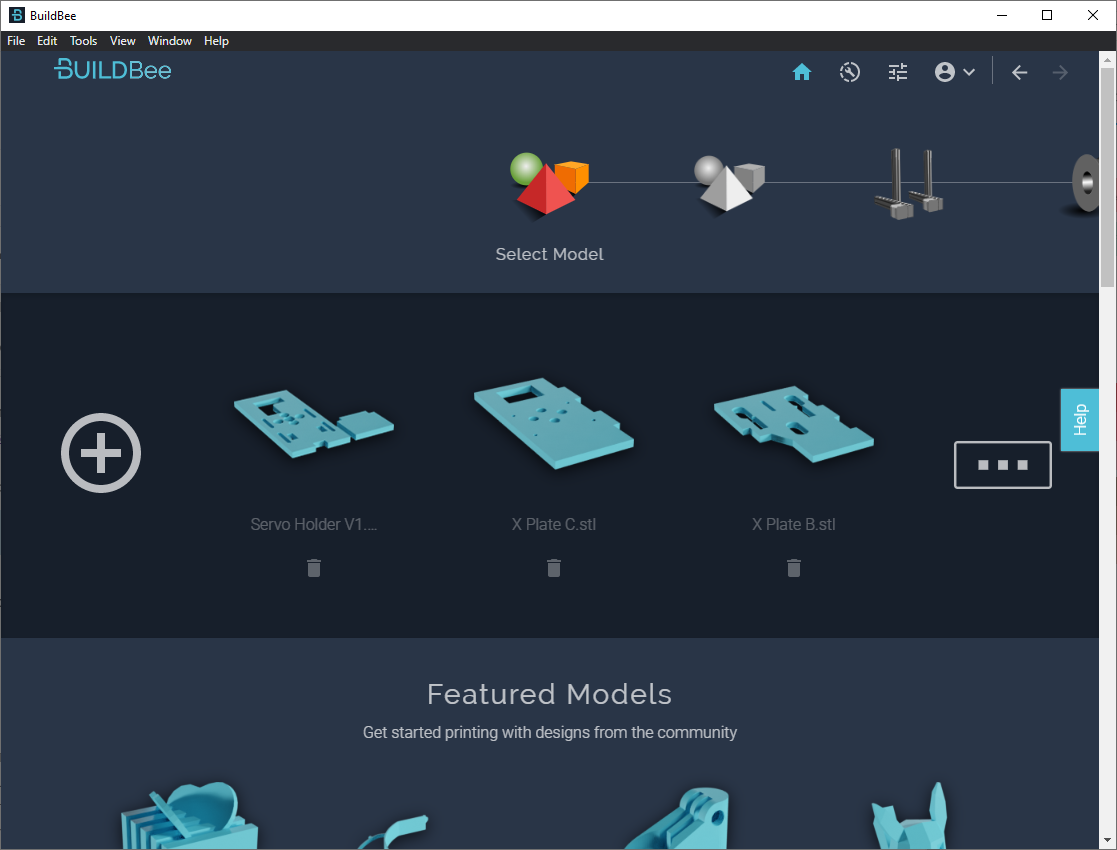 Once installed and are logged in, BuildBee will start a networked print server. BuildBee will find the best device to connect that looks like a 3D printer to it. For this reason it's best to have the 3D printer plugged into an available USB port before starting the application. There are some known bugs around COM ports and finding the correct device estimated to be resolved by the release of Version 70.


Known Issues
Sleeping - BuildBee Desktop highlights a flag to the system intended to make sure the host computer does not go to sleep. If the host computer does go to sleep the print will fail. Similarly if you are using BuildBee Desktop from a laptop device, it should be running on mains power and not from battery.

Maintenance Page - Navigating to the maintenance page is the same as the BuildBee cloud, however there is an additional link within the application menu under "tools". Unlike the BuildBee CloudDock, this maintenance page is only accessible from the host computer.

Printer Selection - From the maintenance page you can select a different printer type in the "System Info" tab.

Queue - A BuildBee desktop printer cannot be used in a queue. This is a temporary limitation requiring a back-end change to the queue system infrastructure. This is estimated to be resolved by Version 75.
Related Articles

Get started with BuildBee: Desktop

BuildBee: Desktop - Installing Go to BuildBee.com/landing/desktop and click the download button that matches your computers operating system: BuildBee: Desktop download buttons Find the installer you have just downloaded and double-click to run it: ...

Setting your BuildBee printer device type

Step 1: Go to BuildBee.com or open BuildBee Desktop This tutorial will work for either BuildBee Desktop or BuildBee.com. You will need to open BuildBee and sign in to your account. Step 2: Go to the Printers page In the top right hand of your screen ...

Using BuildBee on a smartphone or tablet

BuildBee can run as a web app, which means you can use it from any internet connected device with a browser. This allows you to send jobs to a 3D printer connected to a CloudDock or the BuildBee desktop app, from anywhere. Step 1 - Make sure your 3D ...

Introducing BuildBee CloudDock

With BuildBee, you can securely 3D print from anywhere in the world to one of your existing 3D printers directly from your phone, tablet or any other connected device. 3D print logos and photographs directly in BuildBee, design something complex in ...

Updating your BuildBee CloudDock

Most BuildBee updates happen automatically and will be available when you log in or refresh your page. However, larger updates to the BuildBee CloudDock device must be manually triggered. Step 1 - Access your list of printers Your account will need ...